8 days Road Safari Adventure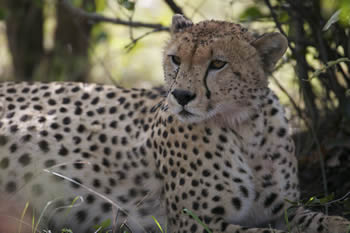 KSAEWIL / WIL008: 8 Days Wildlife safari – Nbo|Sam|Lai|Nak|Mara
Day 1: Arrival – Nairobi
Jambo! Upon arrival at Jomo Kenyatta International Airport in Nairobi, you will be met by a representative from KSAE Ltd who will greet you and assist with the transfer to the City Hotel for overnight.
Overnight: City Hotel
Meal Plan: Bed and Breakfast
Day 2 & 3: Nairobi – Samburu National Reserve
After breakfast, drive north via Nanyuki to the Samburu National Reserve. Arrive for lunch at your camp followed by an afternoon game drive. Later as the sun sets, you will be transferred back to your Lodge/camp for dinner and overnight.
You will have one more day of game viewing with all meals and overnight included.
The reserve is rich in wildlife with an abundance of rare northern specialist species such as the Grevy's zebra, Somali ostrich, reticulated giraffe, gerenuk and the Beisa oryx (also referred to as Samburu Special Five). The reserve is also popular with minimum of 900 elephants. Large predators such as the lion, leopard and cheetah are an important attraction (Kamunyak the miracle lioness that adapted the baby oryx is a resident in the reserve).
Overnight: Camp / Lodge
Meal Plan: Full Board
Day 4: Samburu – Ol Pejeta Conservancy
Depart to the privately-owned 24,000 acre reserve, Ol Pejeta Conservancy s where your drive ends and another adventure begins at your luxurious tented camp with magnificent views of Mt. Kenya. Arrive for lunch followed by afternoon game viewing drive. Dinner and overnight.
One of only four private wildlife reserves in Kenya, your under canvas experience includes wildlife drives in search of the 'Big Five'. Watch a parade of elephant, giraffe, zebra and impala come to drink at the camp's floodlit waterhole and saltlick. Optional activities abound, you may choose to go on a night drive in search of nocturnal species, go on a nature walk or join a rhino patrol with experienced armed rangers to find and monitor black rhino.   During your stay here, you will also visit the 200-acre Chimpanzee sanctuary that has been set up here. Although chimps are not indigenous to Kenya, the aim of the project, initiated by Lonrho East Africa,
Overnight: Tented Camp
Meal Plan: Full Board
Day 5: Ol Pejeta –  Lake Nakuru National Park     
Continue with your journey this morning as you drive to Lake Nakuru National Park, a shallow alkaline lake that is world-renowned for its huge concentration of flamingos; at times, hundreds of thousands of these birds give the lake a pink shimmering glow.  The park boasts a huge variety of animals, including leopard which is often found snoozing on the branches of the magnificent yellow-barked acacias, lion, buffalo, hippo, waterbuck, warthog, baboon, the endangered Rothschild's giraffe only found in this park in Kenya, white rhino and the rare black rhino which is protected and guarded here.
Overnight: Tented Camp/ Lodge       
Meal Plan: Full Board
Day 6 & 7: Lake Nakuru National Park – Maasai Mara National Reserve      
Your journey now takes you to the Maasai Mara, Kenya's most famous wildlife reserve. Arrive in time for lunch followed by afternoon game viewing drive. You will have one more day of game viewing with all meals and overnight at your camp.
The Maasai Mara is arguably Kenya's most popular game reserve. It is most famous and most visited game reserve in Kenya. The film "Out of Africa" was made to a great extend in this sanctuary. There is a profusion of all types of wildlife including the big five. A spectacle worth seeing is the annual migration of millions of wildebeests, zebras, and the gazelles from the Serengeti plains across the Tanzania border and the Mara River to reach Maasai Mara grazing fields from late June. The game reserve abounds with birdlife since close to about four hundred and fifty two odd species have been recorded.
Overnight: Tented Camp/ Lodge        
Meal Plan: Full Board
Day 8: Maasai Mara – Nairobi – Departure       
After breakfast at the Camp, bid farewell to the Maasai Mara as you set on your journey back to Nairobi.  Drive back down the Great Rift Valley to Nairobi, passing close to the dormant volcano, Mount Longonot, and lakes Elementaita and Naivasha en-route at a distance. Keep an eye out for herds of giraffe and gazelle and head up the escarpment. You will arrive in Kenya's bustling capital city Nairobi in the early afternoon where you will be transferred to the Jomo Kenyatta International airport for your departure flight back home.
Safari Features: Road Safaris in Parks and reserves